Betty Buyer returned home from her summer vacation and saw a piece of paper taped to the front door. She tentatively removed it and read "Notice of Default." Her first thought was that there must be a mistake, as her mortgage payments were always paid on time. Then, she realized that the notice was for a loan made to the Prior Owner and not from her mortgage lender. Betty called her title insurer. The matter was referred to the Claims Department for investigation.
Betty had purchased the property from Sam Seller. There was a recorded deed showing Sam had purchased the property at the foreclosure sale held by the lender, who had posted the notice on Betty's front door. Was the lender mistaken? Perhaps there had been no foreclosure sale and the deed to Sam was counterfeit? There was a notary acknowledgment on the deed to Sam. Was that counterfeit? The foreclosure sale had been stayed by the Prior Owner's bankruptcy until an Order of Relief from Stay was filed. Was the Order counterfeit?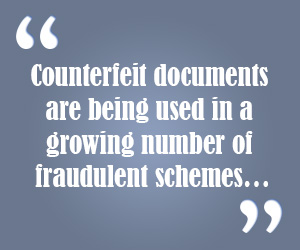 Counterfeit documents are being used in a growing number of fraudulent schemes and are being tendered to title companies and settlement agents with increasing frequency. Documents created with high-quality printers and scanners can look real. Some may contain authentic-looking seals and signatures. There may be an entry in the court's Register of Actions that corresponds to the title of the document. The notary on the document may have an active commission. However, the document may be a fake.
Be suspicious if:
There is a reconveyance or release of a mortgage with no apparent financing to support the payoff.
There is a court order but no petition or motion requesting the relief granted.
A Satisfaction of Judgment or Foreclosure Deed contains multiple typographical or grammatical errors.
A cashier's check is for more than required for the current stage of the transaction.
A transaction cancels shortly after receipt of funds.
The document was provided by the person most likely to benefit and not its "creator."
If a title agent receives a cashier's check, official check, or money order and believes it may be counterfeit, he or she should contact the issuing bank directly for verification. When contacting the bank, do not use the telephone number provided on the instrument, as the number is probably not associated with the bank, but rather with the scammer. The FDIC maintains a search tool for information about insured banks at BankFind Suite: Find Institutions by Name & Location (fdic.gov).
If you receive a counterfeit item, consider notifying the Federal Trade Commission at www.ftc.gov, FBI Internet Fraud Complaint Center at www.ic3.gov or the U.S. Postal Inspector Service at postalinspectors.uspis.gov.
If you are uncertain about the genuineness of a document, contact your local Old Republic Title Underwriting Department or Claims Department.