Careers
Build Your Future
Find your perfect opportunity at Old Republic Title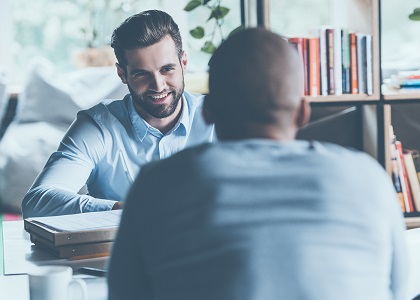 For more than a century, Old Republic Title has been protecting home and property owners with title insurance and related services. Customers count on us to safeguard them from costly, time-consuming title disputes. As one of the largest and most respected title insurance companies in the nation, we have a reputation for exceptional service, unsurpassed financial strength and long-term stability.
Employees at Old Republic Title have the opportunity to work with a broad spectrum of customers across the nation who are part of the real estate transfer process. Our customers include: buyers and sellers of residential and commercial real estate; lenders; attorneys; real estate brokers and agents; appraisers; investors; mortgage brokers; and relocation management companies. We work with our customers from a national network of more than 200 company-owned offices with over 4,000 employees.
Old Republic Title strives to create a friendly and professional atmosphere where employees can learn and make a difference, while focusing on building long, rewarding careers in an exciting industry. Our work environment provides room for employees to grow personally and professionally.
At Old Republic Title, you'll work alongside experienced professionals who are part of the Old Republic Title family. We have high standards for our employees, seeking individuals with knowledge, ability, talent, skills and experience in the title insurance and real estate-related industries. Whether you're working as an underwriter, title professional or in another position, you'll be a valued member of the team with an important role to play in our success.
Ready to take the first step in building a career at Old Republic Title? Find job postings and learn more about our employee benefits below.
Old Republic Title is an equal employment opportunity employer and does not discriminate against applicants or employees with respect to any terms or conditions of employment on account of race, color, national origin, ancestry, sex, gender, sexual orientation, gender identity or expression, individuals who are transitioning or who are perceived to be transitioning, age, religion, creed, disability medical condition, genetic information of an individual or family member of the individual, pregnancy, childbirth or related medical condition, marital status, citizenship, military service status, veteran status, arrest and court record (except as allowable by law), the denial or taking of family or medical leave under state or federal law, Pregnancy Disability Leave, or requesting reasonable accommodation, or any other characteristics protected by state or federal law or local ordinance.
Applicants with criminal histories will be considered for employment in accordance with applicable federal, state and/or local laws. Old Republic Title will consider qualified applicants for positions in San Francisco with criminal histories in a manner consistent with the requirements of the San Francisco Fair Chance Ordinance. Old Republic Title will consider qualified applicants for positions in Los Angeles with criminal histories in a manner consistent with the requirements of the Los Angeles Fair Chance Initiative for Hiring.