Purchasing a new home is one of the most exciting moments for homeowners — and it's often one of the biggest investments of a lifetime. Being sure to get a title insurance policy to protect your property rights to your new investment is an important step in the home-buying process.
What is a Title and Why Would I Need Title Insurance?
Title is the evidence of ownership and possession of property, which stands against the right of anyone else to claim the property. Title insurance is a means of protecting yourself from financial loss if issues develop regarding rights to ownership of your property. In addition to protection from financial loss, title insurance pays the cost of defending against covered claims.
Lender's vs. Owner's
There are two types of title insurance policies: a lender's policy and an owner's policy. A lender's policy is usually required to get a mortgage loan. This policy insures that the lender has a valid, enforceable lien on the property. It also protects the lender against certain covered risks in the title to the property. However, the lender's policy only insures the lender and doesn't provide protection for the owner.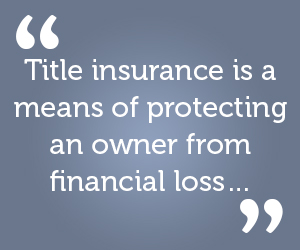 An owner's policy protects the buyer from title defects, liens and encumbrances not excepted in the policy, such as improper estate proceedings or a pending legal action, that could put a buyer's equity at risk. Additionally, an owner's policy provides assurance that the title insurance company (the underwriter) will stand behind the owner if a covered title problem arises after purchase.
It just makes sense...
With an investment as important as your home, purchasing title insurance is one of the easiest and smartest things you can do to protect it. Unlike most insurance policies, title insurance requires a one-time-only fee at closing, and an owner's policy protects you from covered risks as long as you and your heirs own the property. Fees vary by state, so contact your local Old Republic Title® representative for more information.